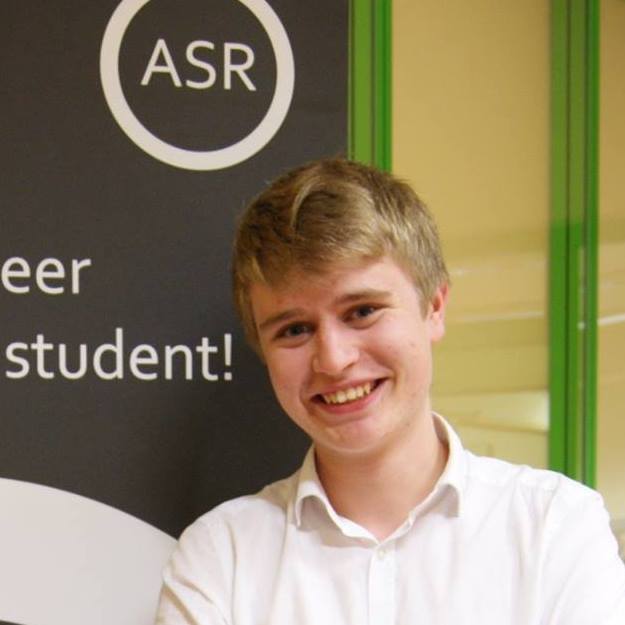 Hi, I'm Robin!
I'm updating my website, please contact me if you see any problem or mistake.
Ik ben mijn website aan het updaten, gelieve mij te contacteren indien er een fout of probleem is.
Je suis en train de mettre mon site web à jour, si vous voyez une erreur ou un problème, veuillez me contacter.
I'm a Belgian student at the Odisee University College in Brussels. I'm currently in my third and last year of Applied Informatics. I'm an active student representative in different councils. Next to that I'm volunteering at the playground 'Speelplein Don Bosco Halle', where I am a chief animator. Please refer to my resume here below or my LinkedIn for more information. Do you want to keep up to date with what is going on in my life? I'm writing my own blog here.
Ik ben een Belgische student aan de hogeschool Odisee in Brussel. Ik zit momenteel in mijn derde en laatste jaar in toegepaste informatica. Ik ben actief als studentenvertegenwoordiger in verschillende raden. Daarnaast ben ik vrijwilliger bij 'Speelplein Don Bosco Halle', waar ik hoofdanimator ben. Voor meer informatie gelieve mijn CV hieronder te bekijken of naar mijn LinkedIn te gaan. Als u meer informatie wenst over mijn dagelijks leven kan u steeds mijn blog lezen.
Je suis un étudient belge a la haute école de Odisee à Bruxelles. Je suis pour le moment en troisième et dernière année de mes études en informatique appliqué. Je suis actif en tant que représentant d'étudiants dans différents conseils. À côté de cela, je suis actif sur la plaine de jeux 'Speelplein Don Bosco Halle' en tant qu'animateur en chef. Pour plus d'informations, veuillez-vous référencer à mon CV ci-dessous ou à mon LinkedIn. Si vous voulez avoir plus d'informations sur ma vie de tous les jours, vous pouvez toujours consulter mon blog.
IT Skills
Software Engineering: Java, C#
Web development: HTML, CSS, JavaScript, PHP, ASP.NET
Network Engineering: CCNA, CCNP, Network Security
System Engineering: Windows, Windows Server, Linux
Information Management: SQL (MySQL, SQL Server), Big Data, Business Intelligence and Analytics
Projects: Prince2, SCRUM, BMC
Microsoft Office:
Word: Very good
Excel: Very good
Access: Good
PowerPoint: Good
Prezi, Slides.com
Content Management System (CMS)
Basic Python and Matlab
Communication Skills
French: Mother tongue
Dutch: Excellent
English: Very good
Certification
Animator in youth work (Flemish government)
Chief Animator in youth work (Flemish government)
CCNA 1-4, CCNA Security, CCNP Advanced Switching (Cisco)
Hobbies
Ping Pong
Badminton
Economy
Web Development
Volunteering
IT Skills
Software Engineering: Java, C#
Web development: HTML, CSS, JavaScript, PHP, ASP.NET
Network Engineering: CCNA, CCNP, Network Security
System Engineering: Windows, Windows Server, Linux
Information Management: SQL (MySQL, SQL Server), Big Data, Business Intelligence and Analytics
Projecten: Prince2, SCRUM, BMC
Microsoft Office:
Word: Heel goed
Excel: Heel goed
Access: Goed
PowerPoint: Goed
Prezi, Slides.com
Content Management System (CMS)
Basis Python en Matlab
Taalvaardigheden
Frans: Moedertaal
Nederlands: Uitstekend
Engels: Heel goed
Certificatie
Animator in het jeugdwerk (Vlaamse Overheid)
Hoofdanimator in het jeugdwerk (Vlaamse Overheid)
CCNA 1-4, CCNA Security, CCNP Advanced Switching (Cisco)
Hobbies
Ping Pong
Badminton
Economie
Web Development
Vrijwilligerswerk
Compétences en Informatique
Software Engineering: Java, C#
Développement Web: HTML, CSS, JavaScript, PHP, ASP.NET
Network Engineering: CCNA, CCNP, Network Security
System Engineering: Windows, Windows Server, Linux
Information Management: SQL (MySQL, SQL Server), Big Data, Business Intelligence and Analytics
Projects: Prince2, SCRUM, BMC
Microsoft Office:
Word: Très bonne
Excel: Très bonne
Access: Bonne
PowerPoint: Bonne
Prezi, Slides.com
Content Management System (CMS)
Bases Python et Matlab
Compétences Linguistiques
Français: Langue maternelle
Dutch: Excellente
English: Très bonne
Certification
Animateur (Gouvernement flamand)
Animateur en chef (Gouvernement flamand)
CCNA 1-4, CCNA Security, CCNP Advanced Switching (Cisco)
Loisirs
Ping Pong
Badminton
Economie
Développement Web
Bénévolat